CHRISTIAN MORRISSEAU
1969 – 2022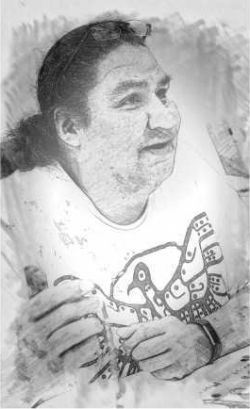 It is with heavy hearts we announce the passing of renowned artist, Christian Morrisseau. In the summer of 2016 we came to know Christian personally, enjoying our family dinners and celebrations together, and forging a relationship that continued from that point in time. He was known to us simply as "Chief". A nickname that reinforced our friendship. It was a dark period for Christian, following the untimely death of his son. There were no words to console him then,
there are no words to console the ones left behind now.
"Chief, may your troubled spirit at last find the peace that alluded you in life"
We have set up a Go Fund Me page to help the family with funeral costs, to donate please go to:
https://www.gofundme.com/f/christian-morrisseau-family
I speak as one son, an artist, and an Ojibwe. I am a born artist.
This is not by accident. I work with and out of Anishnabe myths that have become the mark of the Woodland School of Art.
I have had to contend with the terrible strength of my father's vision. I am not alone. Such was his ability, that there is hardly a Native artist who does not learn from Norval's artistic strength.
My father taught by being. He never gave lessons. Art to him was waking in the morning. Art was revelation of the Ojibwe history. Art was getting ready for bed. I didn't name it. I just knew it. I lived Norval Morrisseau's art.
– Christian Morrisseau