Christian Morrisseau Art Auction
'The Healing Journey' Exhibition
Including: Norval and Christian Morrisseau Auction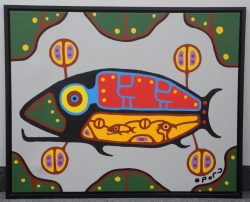 LAUNCH ONLINE INUIT AND NATIVE  ART AUCTION CATALOGUE
 EXHIBITION OF SELECTED ARTWORKS ONLY:
February 14th, 2017 – March 10th, 2017
AUCTION PREVIEW:
March 8th, 9th, & 10th, 2017 – 10:00am-4:00pm Daily
LIVE ONLINE AUCTION:
Friday, March 10th, 2017 – 7:00pm.
THIS CHARITY AUCTION FUNDRAISER IS BEING HELD AT THE GIBSON CENTRE FOR COMMUNITY, ARTS AND CULTURE:
63 Tupper Street West, Alliston, ON, L9R 1E4 – 705-435-2828.
Please check back often for the online catalogue for the Christian Morrisseau Art Auction.  
Art Auction Items will be posted soon and updated daily! 
A Charity Auction Fundraiser in Support of the Gibson Centre for Community, Arts & Culture and the Kylie Morrisseau Scholarship Award.

A collection of over 50 original acrylic paintings – a Christian Morrisseau offering from the "All of the Colours Collection" that includes: rare deer hides, native drums, shakers, canvas, special release serigraphs, gold and silver motifs, unique acrylic metallic on canvas and limited edition serigraphs and folios;
Norval Morrisseau original art on canvas, paper and silkscreens circa 1970's-80's;
Haida original cedar masks and carvings; Private collection of original Inuit stone carvings; Group of Seven special limited editions and limited release folios and much more!